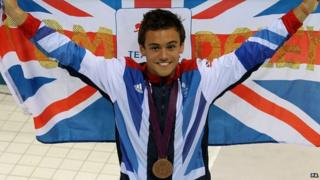 PA
Days after winning an Olympic medal Tom Daley is celebrating again after getting his A-level results.
Tom scored top marks getting an A in Spanish. He's already got an A* in photography and an A in AS-level maths.
He scored nearly 100% in his Spanish speaking exam - could this be a new career for Tom?
Tom says he's really pleased with the results - but he's not done yet with a few more exams left in maths.
The swimming superstar posted his results online and said thanks to his college in Plymouth.
Staff and students at his school have spent the past few weeks cheering him on in the Olympics.
It's been a busy few years for the eighteen-year-old - he's worked hard to fit in his school work around his training.
Tom has had to fit in four hours of training every night, on top of a full day at school and getting his homework done.
He's said it's great now he's got an Olympic medal to show for all the hard work and sacrifice.
Tom's not slowing down though: he's already starting to look to the next Olympics in 2016, as well as keeping up with studying.