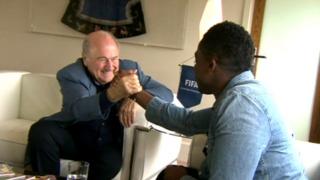 Sepp Blatter talks about racism
Football has been making headlines for the wrong reasons lately, after a number of high-profile racism incidents.
Ore has been investigating the state of racism in football for a special Newsround report.
He met the President of Fifa, Sepp Blatter, who said racism "has to be kicked out" of football.
Blatter says he hopes for a time when there is 'zero tolerance' of racism in football - and he demonstrates his idea for a 'special handshake' that he believes can combat the problem.
Newsround: Football and Race Special is on BBC One on Friday 17 August at 5pm - or catch up afterwards on CBBC iPlayer.