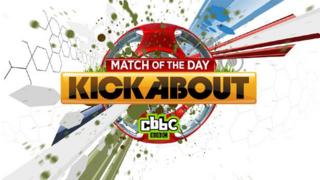 Footy fans, get ready - MOTD Kickabout is kicking off again this Saturday!
Ore will be seeing in the new season with a special half-hour show presented from the Etihad Stadium, home of current Premier League champions and Community Shield winners Manchester City.
We'll be looking at the contenders for the 2012-13 title and the hottest transfers of the summer.
There's the return of Total Tekkers, with Danny and Andy showing us how to recreate the goal of last season - Papa Cisse's wondergoal for Newcastle against Chelsea.
And it's Paz against Bez in Football Brain - we find out who's the footy expert of our duo!
All this and much, much more. You don't want to miss it.
Tune in to MOTD Kickabout this Saturday at 7:25am on the CBBC Channel and 11:30am on BBC Two.