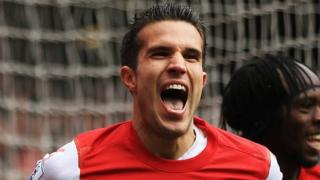 Allsport/getty images
Manchester United could have snapped up Arsenal captain Robin Van Persie after agreeing a £24 million four-year deal.
RVP will meet with United in the next two days to have a medical check and discuss personal terms.
The 29-year-old scored 37 goals for the Gunners in the last Premier League season.
The striker said in July that he wouldn't be staying with Arsenal because he didn't agree with how the club should move forward.
United said on their website on Wednesday evening: "Manchester United is pleased to announce it has reached agreement with Arsenal Football Club for the transfer of Robin van Persie."
Manchester United, Manchester City and Italian side Juventus had all made bids for Van Persie.
The Dutchman has been at Arsenal since 2004.
The new Premier League season begins this weekend.