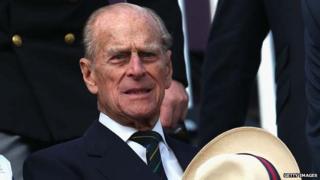 Getty Images
The Duke of Edinburgh has spent the night in hospital "as a precautionary measure" after a bladder infection came back.
The Queen's husband was taken to Aberdeen Royal Infirmary on Wednesday evening.
He'd been with the Queen at her home in nearby Balmoral Castle.
It's the same infection that led to him needing five nights in hospital in June, after the Diamond Jubilee Pageant on the River Thames.
The 91-year-old's set to stay in hospital for a few days so doctors can watch his condition.