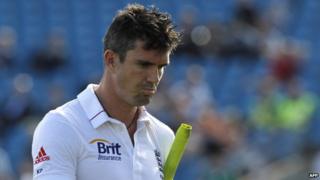 AFP
England batsman Kevin Pietersen has apologised for sending texts to South African players about his England team-mates.
The cricketer was banned from playing in the third Test against South Africa by the England Cricket Board, after they found out about the messages.
Pietersen said: "I truly didn't mean to cause upset or tension, particularly with important games at stake.
"The texts were meant as banter between close friends."
England captain Andrew Strauss said that the problem was bigger than just text messages, and more about trust.
He said that it had not been a good week for English cricket.
The ban comes in the middle of an important Test series between South Africa and England.
South Africa lead 1-0 with the final match starting at Lord's on Thursday. Whoever wins the series will become the top Test side in the world.
Earlier in the week Pietersen had said that he might retire from international cricket altogether after a row with England bosses over how much time he can spend playing the game overseas.
But on Saturday he said he'd like to continue to play for England in all forms of the game.