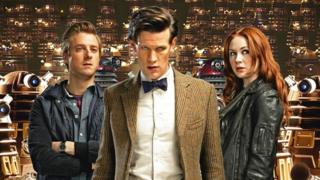 The Doctor will be fighting off some familiar faces when the show returns to our screens.
Doctor Who creator Steven Moffat has said the Daleks will be back for the new series of the show.
Moffat said, "It was an easy decision to come back with Doctor Who at its most iconic and that means Daleks, lots and lots of scary Daleks."
The Timelord, played by Matt Smith, will also be battling dinosaurs this time around.
Smith said that getting to grip with the dinos wasn't easy, "I had to wear padded trousers. Dinosaurs are a lot lumpier than horses, so it was a painful couple of hours, a laugh though and definitely worth it as it's going to look great."
Fans should have their tissues at the ready, this series is the last for the Doctors sidekick Amy Pond, played by Karen Gillan.
She's going to be replaced by Jenna-Louise Coleman but be prepared for a dramatic goodbye!