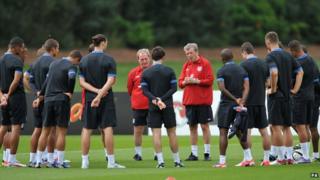 PA
England manager Roy Hodgson has said that he thinks the Olympics should be a "wake-up call" for footballers.
Hodgson said that both the players on the pitch and the fans can learn lessons from how people behaved during the London games.
He said, "We don't need that hatred and abuse which footballers have to suffer,
"You can't compare the atmosphere and the way people behaved in the Olympic Stadium with the game I watched the day after, the Community Shield."
The England manager also said he thought that all major sports from cricket to rugby would be under the spotlight more after the good examples set by members of Team GB.