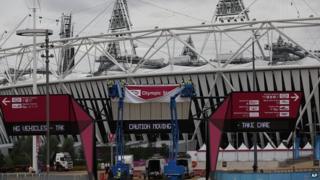 AP
The Olympics only finished two days ago but work is already underway for the Paralympic Games.
Signs and banners around the site are being changed and rooms in the athletes' village are being made suitable for wheelchair access.
New volunteers also need to be trained up - but the biggest task is getting the venues ready for action.
The Copper Box will be the venue for goalball and wheelchair tennis will take place in the Olympic park.
Familiar venues like the BMX course, Horse Guards Parade and Lee Valley White Water Rafting centre will close.
2,000 cars and buses will be re-branded and more than 200 of these will be converted for wheelchairs.
More than 4,000 paralympic athletes from all around the world will be taking part in the Games with the first athletes arriving at the village on 20 August.
Tickets are nearly sold out for the Games with 2.1 million already taken.