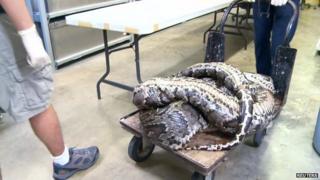 Reuters
A huge Burmese python has been captured in the US state of Florida.
The snake was found in the Everglades National Park and is more than 5 metres long, weighing 74kg.
It's the biggest ever python found in Florida and is one of the deadliest type of snakes.
Researchers got a shock when they studied it as they found it was pregnant with a record number of 87 eggs.
Burmese pythons hunt animals as big as deer and alligators and have been blamed for a decline in the number of mammals in Florida.
Scientists plan to put the snake on show in an exhibition in the University of Florida after they finish studying it.