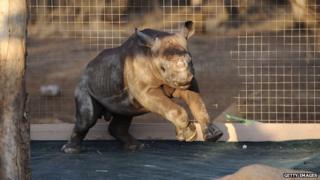 Getty Images
Baby rhinos left without parents can now be looked after at a special sanctuary in South Africa.
Hundreds of adult rhinos are killed in Africa by poachers every year, leaving their babies struggling to survive on their own in the wild.
This centre is one of the first in the world and will give the baby rhinos 24 hour care and attention.
It has medical centre to look after the young animals if they are sick.
Almost 300 rhinos have been poached in South Africa since the start of the year, and in 2011, 448 were killed.
Poaching has increased in the last few years because of more demand for rhino horn on the black market.