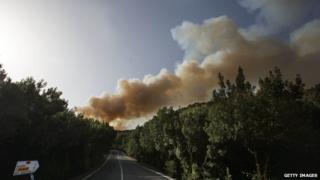 Getty Images
Thousands of people have had to be saved from the Canary Islands off the coast of Africa because of forest fires.
The worst hit areas are Tenerife and La Gomera, both of which are popular places for people to go on holiday.
Firefighters have been battling to keep the blaze under control because of strong winds and dry weather.
Four thousand people have had to leave their homes and lots of hotels have been evacuated too.
A heatwave and strong winds have meant that the fires are difficult to put out.
The Environment Ministry says the damage from fires this year makes it the worst since 2002.
It is the latest country to have wildfires. Earlier in the summer Greece, Spain and Colorado in America had similar problems.
People are worried it will have an impact on tourism.