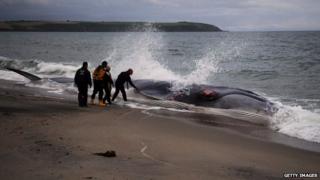 Getty Images
A whale which washed up on a beach in Cornwall has had to be put to sleep by vets.
The 20 metre long fin whale was badly injured when it was found.
Vets tried to rescue the animal but found it was too ill to make the journey back to sea.
Fin whales are the second largest animal on the planet and are an endangered species.
Specialist divers couldn't save it.
Faye Archell from the British Divers Marine Life Rescue group said:
"It would be wrong for us to put a sick animal back into the sea. We are frustrated about it but we cannot help it."