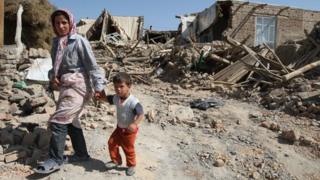 Getty Images
Iran has called off a search for the survivors of two earthquakes that struck the country on Saturday.
More than 300 people died in the two quakes near the northern city of Tabriz.
They happened 11 minutes apart and both had a magnitude of more than six.
The country's leaders say the focus has now turned to the 16,000 victims who have been left homeless and the many who are injured.
Six thousand people whose homes were destroyed are currently living inside one of the country's big sports stadiums or in makeshift tents.
Reports suggest most of the people who went missing in the quakes have been found although some are still unaccounted for.