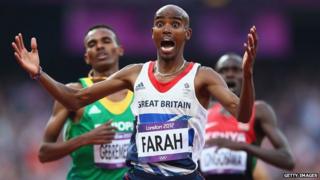 Getty Images
Could your birthday be the key to Olympic success? It is if you're born on 23 March.
Gold medal cyclists Sir Chris Hoy and Jason Kenny, as well as runner Mo Farah were all born on that day.
It's also shared with Roger Bannister, the first man to run a mile under four minutes, boxer Joe Calzaghe and rowing legend Sir Steve Redgrave.
With a huge pile of Olympic gold medals between them, it seems 23 March is one of the sportiest birthdays around.
Don't worry too much if you were born on a different day though. There's plenty of athletes who weren't born then who've made it based on hard work and training.