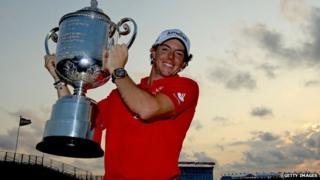 Getty Images
Golfer Rory McIlroy has returned to the top of the world rankings after winning the second major tournament of his career.
The Northern Irishman won the PGA Championships in America by a record eight shots, becoming the youngest player in history to claim the title.
There are four "major" tournaments in golf each year - the British Open, the Masters, the PGA Championships and the U.S Open. Mcilroy has now won two of them.
That means the 23-year-old is also the youngest player to win multiple majors since Spain's Seve Ballesteros did it in 1980.
The win comes at an important time in Rory's career with many critics saying his form had slumped following his U.S Open in 2011 and questioning if he had the dedication to win more big tournaments.
Speaking after the win, he said, "I did want to go out there and prove a few people wrong. That's what I did. It took me all of four weeks to get my game back in shape and get out of my mini slump - and this is the result.
"To sit up here and see this trophy and call myself a multiple major champion, not many people have done it and I'm very privileged to join such an elite list of names."
The win means he regains his status as world number one.