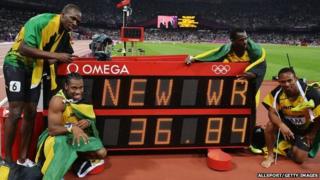 Allsport/getty images
There's just no stopping Usain Bolt - he's won his third gold medal of London 2012, in the 4x100m relay.
The Jamaican superstar ran the last leg and crossed the line in a new world record time of 36.84 seconds.
Nesta Carter and Michael Frater did two great first legs, but Yohan Blake blasted through the third to give Jamaica a clear lead.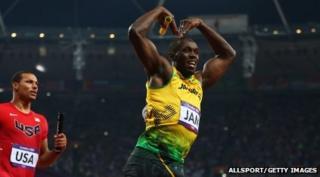 Allsport/getty images
This victory means Bolt now has SIX gold medals in total.
Bolt has won the same three golds at London 2012 and Beijing 2008 - 100m, 200m and 4x100m relay.
He said: "It's a wonderful feeling to end on a high note. It was a great championships, I'm happy, the team came out and gave it their all, I wish we could have gone faster but we leave room for improvement."
Bolt's teammate Yohan Blake joked about their super speediness: "Basically, we are not human... We are from space, I am from Mars."