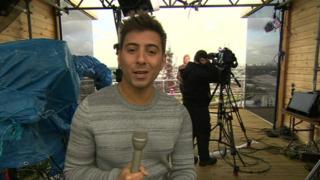 Ricky's tour of NR Olympic studio
Ricky takes us behind the scenes of Newsround's special Olympic studio, where we've been broadcasting live every morning over the Games.
It's on the 20th floor of a residential building in east London, which gives us an amazing view of the Olympic venues.
But it's not just us there - loads of other BBC news programmes are based there too for London 2012.
We bump into BBC Breakfast's lovely weather presenter Carol Kirkwood - and check out her super glam office!
But we've got to be quiet as there are loads of signs telling us to 'Shhhhh' so we don't disturb people on air!