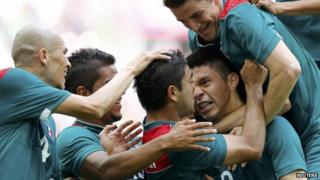 Reuters
Mexico stunned Brazil by defeating them 2-1 to win gold in the Olympic football final at Wembley.
Oribe Peralta scored for Mexico after just 29 SECONDS thanks to poor defence from the Brazilians.
The striker then added another goal with a powerful header from a free kick in the second half.
Hulk scored for Brazil in injury time, but a missed header from Oscar in the last seconds meant they lost the chance of taking the game to extra time.
This is Mexico's first ever medal in the Olympic football competition.
It means Brazil are still waiting for their first Olympic football title.
On Friday night, South Korea beat Japan 2-0 in the third place play-off to take the bronze medal.