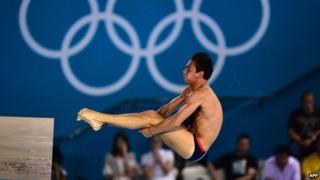 AFP
Tom Daley has guaranteed himself a spot in the 10 metre platform diving semi-finals.
The diver didn't get off to a great start but managed to finish in 15th place.
The top eighteen divers from the qualifying rounds each got a place in the semis which will be on Saturday.
He'll have to up his game if he wants to go home with a medal, only the top 12 divers from the semis will go through to the finals.
The 18-year-old will be hoping that he can do better in the individual event than he did in the syncro competition.
Daley and his diving partner Pete Waterfield came fourth, just missing out on a medal.