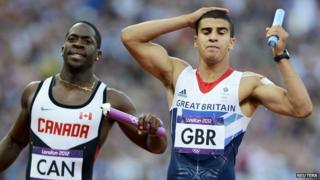 Reuters
Team GB's men's 4x100 metre relay team have been disqualified from the competition.
The squad won't be allowed to race in the next round after failing to finish handing over the baton in enough time.
The baton was passed from Daniel Talbot to Adam Gemili outside of the allowed area, athletes have to handover the baton to the next runner within a twenty metre zone.
It's disappointing for the team who finished second in the race.
One of the runners Dwain Chambers said, "At the end of the day we are proud to be here representing the country. We have to build as a team and hopefully we can do better in the future."
It's not the first time this has happened to Team GB relay runners.
In Beijing the squad were disqualified from one of their heats because of a bad changeover and have dropped the baton in four out of the last five major championships.
It was a much better race for Team USA who make it round the track in 37.38 seconds, a new national record.