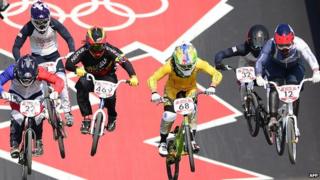 AFP
Team GB's Shanaze Reade has missed out on an Olympic medal in the women's BMX event.
The 23-year-old had done well in the qualifying heats, winning one of the earlier races.
But the four-time world champion came sixth in the final with Colombia's Mariana Pajon taking the gold.
Reade missed out an Olympic title four years ago in Beijing when she crashed out of the final race.
Britain's Liam Phillips also missed out on a medal in the final of the men's competition.
He started off the race in bronze position but crashed half way through the race.