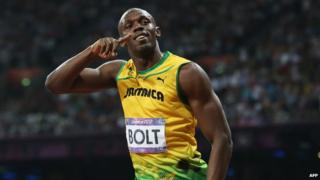 AFP
Usain Bolt may have won gold for Jamaica on Thursday night but the kit he was wearing was British.
Ffion Appleton from Wales was chosen to design the yellow and green running gear for the team to wear.
She was picked after applying to an advert she saw in a designer trade magazine.
Appleton said her inspirational outfit came from listening to Jamaican music.
She also said she chose the bright style to make sure the runners stood out on the track.
With Usain's speedy performance, he definitely did that!