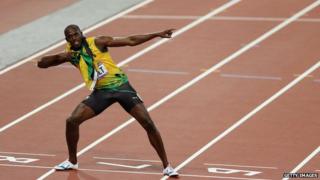 Getty Images
Jamaican 'double-double' winner Usain Bolt has confirmed he has no plans to retire.
He says he is the "greatest athlete" and a "living legend".
On Thursday he won his second gold of London 2012 - completing the historic double of 100m and 200m in two consecutive Olympics.
Sending a warning to his fellow competitors, he said: "I am not ready to retire. I love this sport."
And despite his historic win, he admitted: "I was fast but I wasn't fit enough."
While Bolt was making history in London, his family were celebrating back in Jamaica.
Speaking from there, Usain Bolt's Aunt Lilly said she was "on top of the world" after watching her nephew.