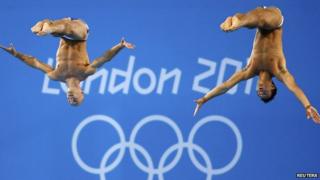 Reuters
All the highlights and potential Team GB medal winners to watch out for on day 14 of the London 2012 Olympic Games.
BMX RACING
3.00 - 4.50pm: Shanaze Reade and Liam Phillips, semi-finals and finals.
Look out for Team GB's medal hopefuls Shanaze Reade and Liam Phillips in the women's and men's semi-finals at 3pm. If they qualify they'll be in the finals at 4.30 and 4.40pm. Shanaze crashed out of the final in Beijing four years ago but is hoping things will go her way today.
TAEKWONDO
8pm final and gold medal matches at 10.15pm, Lutalo Muhammad and Sarah Stevenson.
A day after Jade Jones became the first person in Team GB to win a gold medal in taekwondo, Lutalo Muhammad fights in the men's 80kg category.
BOXING
1.30pm and 10.30pm: Luke Campbell, Anthony Ogogo, Fred Evans and Anthony Johsua.
Team GB's Luke Campbell, Anthony Ogogo, Fred Evans and Anthony Johsua are guaranteed a bronze at least.
DIVING
7.00-10.30pm: Tom Daley and Peter Waterfield
Tom Daley and Peter Waterfield compete in the opening round of the Men's 10m Platform.
SAILING
12.00-1.30pm: Luke Patience and Stuart Bithell. Hannah Mills and Saskia Clark.
The finals of the men's and women's 470 sailing in Weymouth were prevented from taking place yesterday because there was no wind. Today both crews go for medals and are guaranteed a silver.
HOCKEY
3.30pm: Team GB women's hockey
The team GB women's hockey team are hoping to take home the bronze medal when they face New Zealand. They lost in the semi-finals to Argentina on Wednesday.
SWIMMING
12.00-2.30pm: Daniel Fogg
The mens 10km marathon takes place in Hyde Park with Daniel Fogg representing Team GB.
ATHLETICS
7.00-9.30pm
7.00pm: Men's Pole Vault Final - watch out for GB's Steve Lewis.
7.35pm: Women's Hammer Throw Final - Look out for GB's Sophie Hitchon.
8.05pm: Women's 5000m Final - GBs Julia Bleasdale and Jo Pavey have qualified.
8.55pm: Women's 1,500m final - Team GB's Lisa Dobriskey and Laura Weightman are in it.
9.20pm: Men's 4 x 400m relay final. Watch out for South Africa's 'Blade Runner' Oscar Pistorius.