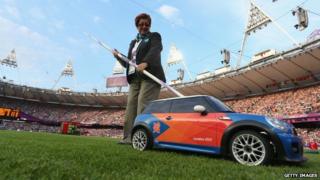 Getty Images
If you've been watching the athletics carefully you might have noticed a nifty new way to pick up sports equipment.
Remote control cars have been used to help return javelins, hammers and discuses after they've been thrown across the field.
The items are loaded into the tiny cars through the sunroof.
The miniature Minis take 80 minutes to charge and can run for 35 minutes without running out of power.
It's thought that the cars travel up to 6,000 metres each day.
Volunteer Gareth Goh, who's 16, helps to operate the cars.
He said: "It's been pretty amazing. Some of my friends were a bit jealous at first, but we're trying to share out the job at the stadium so everyone gets to do it."
Gareth only had 15 minutes to learn how to use the miniature car.
He added that one problem is working out which car is which.
"They look identical. A couple of times I've wondered why mine isn't moving and realised I'm looking at the wrong one — you need to concentrate quite hard."