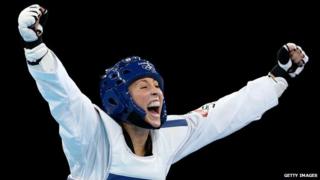 Getty Images
Jade Jones has won Great Britain's first Olympic taekwondo gold medal after winning the women's -57kg title.
It's the 25th gold Team GB have won at the London 2012 Games.
The 19-year-old beat Yuzhuo Hou of China 6-4 in the final to grab top spot.
After the fight, Jones said: "I still doesn't feel real, it feels crazy. I've dreamt about this for ages and the crowd have just been amazing. This can't be beaten.
"I sang the national anthem and it was the best moment of my whole life. Amazing.
"I've seen this medal on pictures and seen other people get them. To finally have one round my neck, I still don't believe it. It's just crazy. Taekwondo is such a low-key sport that hopefully this will boost the profile.
"I will take a bit of time off first, get mentally sorted, then bring on Rio."
Britain's previous best result in the sport was Sarah Stevenson's bronze in Beijing.