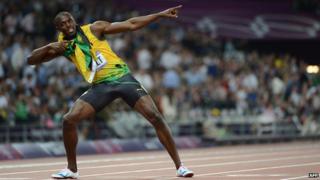 AFP
Usain Bolt has made Olympic history by being the first person to win both the 100m and 200m sprints twice in a row.
The Lightning Bolt struck again beating his training buddy Yohan Blake to the finish line in just 19.32 seconds in the 200m final.
It was a brilliant night for the Jamaican sprint team who also took the silver and bronze positions.
Bolt now has five Olympic golds and could add one more to his collection in the men's 4x100 metre relay.
Before the games Bolt had said that he was only 95 percent fit but still managed to keep both his 100m and 200m Olympic titles.