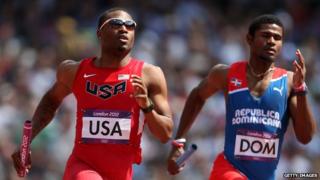 Getty Images
Lots of athletes get injured during the games but for one American sprinter it got pretty painful.
Manteo Mitchell broke his leg during the men's 4x 400 metre relay race but kept on going to the finish line.
Just over 200 metres into the race he said he felt like his leg snapped in half.
But Mitchell knew he had to keep going for the rest of his team and even ran fast enough to help them qualify for the final!
After the race an x-ray confirmed that he had actually broken a bone in his left leg so unfortunately won't be joining his team in the relay final.
The team's coach said, "Without his courage and determination to finish, Team USA would not be at the starting line in the final."
But he will be at the stadium to watch the final Friday and if USA win a medal Mitchell will be given one too because he ran in the qualifying rounds.