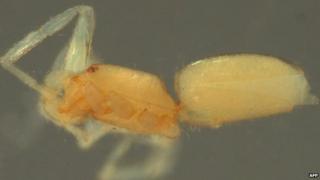 AFP
Team GB's medal winners may have post boxes painted gold in their honour but Sir David Attenborough has been given something a little bit different.
The famous broadcaster and nature expert has had a new species of spider named after him.
The goblin spider will be known as Prethopalpus Attenboroughi or Attenborough's goblin spider.
The one millimetre creepy crawly was recently discovered on Horn Island off the coast of Australia.
Experts at the Western Australia Museum who discovered the spider decided to name it after him because of his love of nature.
This isn't the first time that Sir David Attenborough has had a species named after him.
He's already got a rat eating plant called Nepenthes attenboroughii, an species of armoured fish, Materpiscis attenboroughi and an Eduadorian flowering tree, Blakea attenboroughii, under his belt!