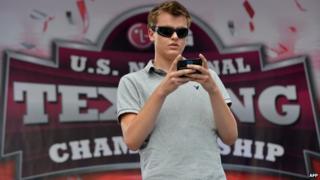 AFP
A teenager has defended his title as the fastest texter in the US.
17-year-old Austin Weirschke beat ten other people at the National Texting Championship in New York.
People taking part in the competition were judged on speed and accuracy over eight rounds.
They had to memorise and type phrases as fast as possible and then translate abbreviations like TTYL (talk to you later) into words.
They also had to write words backwards and type the words to nursery rhyme Twinkle Twinkle Little Star in 45 seconds wearing dark glasses to stop them from seeing properly.
Austin usually sends a whopping 500 texts to his friends each day but says his success is down to the extra practice he's been doing with his Mum.
He won £32,012 prize money in the competition and says he's going to put it towards going to University.