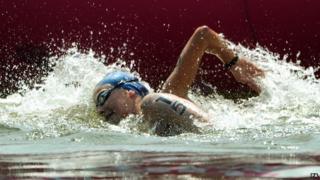 PA
Swimmer Keri-Anne Payne has missed out on a medal in the open water 10km marathon.
She won a silver medal in the 2008 Beijing Olympics but came in fourth place this time.
Hungarian swimmer Eva Risztov won the gold medal and Hayley Anderson from the US won silver. In third place was Martina Grimaldi from Italy.
It was a hard fought race with the group of swimmers sticking close together from the start.
Keri-Anne usually likes to lead the open water races from the beginning but this time she let a few other girls go infront.
Speaking after the race she said, "It just didn't go my way from the start. I tried to get back up to lead but they played me at my own game. The top 25 swimmers in the world were in the race and to come out fourth is not too bad. It was really close.
"It's not quite what I wanted for the crowd and all the people who have helped me get here. But it's not the end of me and swimming."
The marathon took place in the Serpentine lake in Hyde Park with thousands of people watching.