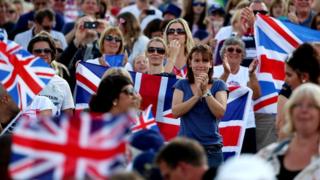 Getty Images
All the highlights and potential Team GB medal winners to watch out for on day 14 of the London 2012 Olympic Games.
TAEKWONDO
10.45am: Martin Stamper
Liverpudlian Martin starts against Erick Osornio Nunez from Mexico at 10.45am in the men's 68kgs.
3.30pm: Jade Jones
The 19 year old is through to the quarter-finals of the women's under-57kgs after her 15-1 victory over Serbian Dragana Gladovic at the ExCeL.
SAILING
1-1.30pm: Luke Patience and Stuart Bithell, 470 class medal race
Great Britain's Luke Patience and Stuart Bithell are guaranteed at least a silver medal in sailing's 470 class on Thursday. But the Australian crew of Mathew Belcher and Malcolm Page are tipped to win gold. Watch to find out how the Brits get on.
OPEN-WATER SWIMMING
12.00-2.30pm: Keri-Anne Payne, women's 10km marathon
Britain's Payne is tipped as the favourite to win as she's claimed two World Championship titles since her open-water silver medal in the Beijing Olympics in 2008.
EQUESTRIAN
12.30-4.00pm: Laura Bechtolsheimer, Charlotte Dujardin and Carl Hester, individual dressage
The team won GB's 20th gold medal of London 2012 on Tuesday, but now they compete against each other in the individual dressage freestyle final.
Dujardin could bring in another British medal.
BOXING
4.30-4.40pm: Nicola Adams, women's flyweight
London 2012 is the first Olympics to include women's boxing. Nicola beat India's Mary Kom in the semi-finals, and she could become the sport's first-ever Olympic champion when she faces world champion Ren Cancan of China.
HOCKEY
7.50-10.10pm: Great Britain v Netherlands, men's semi-final
Great Britain's men will need to beat Netherlands to be in with a chance of a medal. Can they go one better than their female team mates?
ATHLETICS
8.55pm: Usain Bolt, men's 200m
Bolt recently hinted he could run 200m in under 19 seconds. If he pulls it off, it'll be one of the greatest moments in athletics, ever. But could fellow Jamaican and training partner Yohan Blake steal his 200m crown?