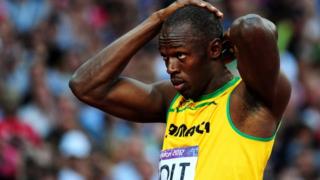 Getty Images
Usain Bolt cruised through his race to qualify for the men's 200m final at London 2012, winning in 20.18 seconds.
Bolt was so confident and relaxed during the race he actually slowed down before the finishing line.
He explained why afterwards, saying: "It's all about going through as easy as possible.
I'm ready. This is my favourite event, so I'm looking forward to it. I know what I can do, so I never doubt myself."
His rival and training partner Yohan Blake also won his semi final in a time of 20.01 seconds.
The final promises to be an exciting showdown between the two Jamaicans for the gold medal and Blake is equally confident about his speed on the track.
After his semi final race he said: "The race was a walk in the park. I've been working hard. All I needed to do was kick well."