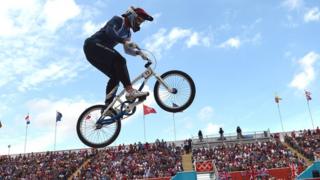 PA
If you fancy finding out more about BMX racing, then you've come to the right place!
The bike: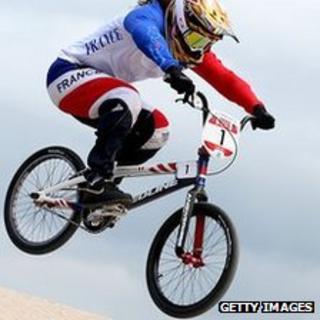 Getty Images
BMX bikes have one gear and one brake only.
The wheels of most racers bikes are 20 inches in diameter - that's two-thirds the size of wheels on a regular bike.
The bikes need to be strong enough to withstand the wear and tear from rough landings after jumps, but still light enough so the rider can be fast.
The course:
Differs for the men and women's competition. The outdoor tracks are 450 metres long for the men and 440 metres for the women.
Both tracks have lots of jumps, bumps and tight corners - known as berms.
Racers start off on an 8 metre high ramp.
Crashes: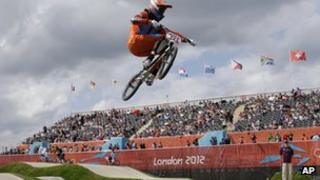 AP
Happen a fair bit in these races, but no rider is allowed to deliberately crash into or hinder a fellow racer on the track.
BMX at London 2012:
It's only the second time BMX racing has taken place at the Olympics, it was first introduced in 2008 at Beijing.
48 competitors will be racing in total. 32 in the men's competition and 16 in the women's.
First each racer has a time trial where they're racing against the clock to get their seeding for the next rounds, which are called motos.
Racers who are successful in these get through to the semi-finals and then ultimately the finals.
Each race lasts around 40 seconds.
The winner is the first bike whose front wheel crosses the finishing line.