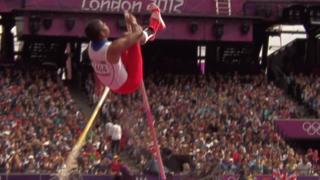 London 2012: Pole vaulter's pole snaps!
Things didn't go quite to plan for this Cuban pole vaulter when his pole snapped right in the middle of a leap.
Lazaro Borges was competing in the qualification rounds at the Olympics when his pole broke into three pieces!
It's one of the risks of the sport and has happened to athletes before, famously to successful British Olympian Daley Thompson during the decathlon.
Luckily Lazaro wasn't hurt, but he failed to qualify for the finals. Check out the clip to see it happen!