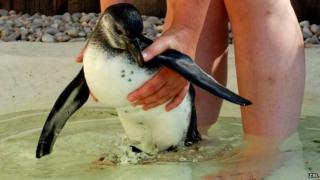 ZSL
A baby penguin from a species under threat has taken his first steps in water at London Zoo.
Pickle, who is ten weeks old, is a Humboldt penguin.
He was nervous about the water to start with, but was soon splashing around in the training pool for baby penguins.
His keeper, Vicky, says: "Pickle has lost almost all of his fluffy baby feathers now, and he's nearly ready for his debut in the big pool."