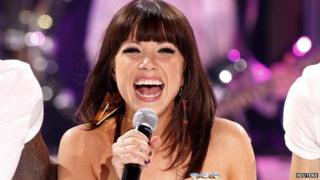 Reuters
Call Me Maybe singer Carly Rae Jepsen will be releasing her debut album in the UK next month.
Carly shot to fame when the single Call Me Maybe sold millions of copies around the world.
She'll be hoping her first album will be just as successful when it arrives in the UK on 17 September.
It will include her latest single, Good Time, which she worked on with Fireflies star Owl City.
Carly co-wrote all the tracks on the album which features a guest spot from fellow Canadian singer Justin Bieber.
She says once the album is released she'll perform as support to Justin on his arena tour of north America.
Carly's song Call Me Maybe has sold a whopping 7.3million copies worldwide so far in 2012.
A video for the track featured High School Musical star Ashley Tisdale, movie star Selena Gomez, and Justin Bieber all dancing in a kitchen!