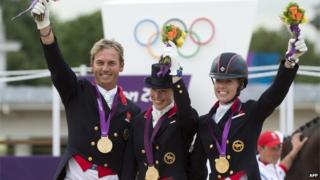 AFP
The GB Equestrian team have made history bringing home Britain's first ever gold medal in a team dressage event.
Overall it's Team GB's 20th gold medal of the Olympics- that's biggest GB gold rush since the 1908 London Olympics!
Riders Laura Bechtolsheimer, Carl Hester and Charlotte Dujardin saw off the defending champions Germany to take the top spot.
This is the second gold for the GB horse-riders in two days.
Charlotte Dujardin and her horse Valegro were the stars of the show. They set a new Olympic record earlier in the competition and their top score sealed the deal in the final.
The team clinched gold before the other teams even finished their rides which meant everyone had to keep quiet and hold off the celebrations for another fifteen minutes.
Dressage is known as ballet for horses, it takes years to be able to train a horse to memorise their routines.