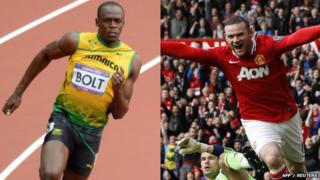 AFP / REUTERS
He's not even finished competing in the Olympics yet but it seems Usain Bolt has his sights set on becoming a football star!
He's said to be interested in taking part in trials at his favourite club Manchester United.
Making the comments to the Sun newspaper, Usain said: "People think I am joking. But if Alex Ferguson called me up and said, 'OK let's do this, come and have a trial', it would be impossible for me to say no.
"I would not take up the challenge if I didn't think I was good enough. I am a very accomplished player and know I could make a difference."
Now Manchester United centre-back Rio Ferdinand has written to Usain on Twitter and said: "If you want that trial at Man Utd shout me, I'll speak to the boss!! Well done in 100m."
Bolt replied: "After the Olympics we work on that... lol... thanks man".
So watch this space, Usain might be coming to a football pitch near you!