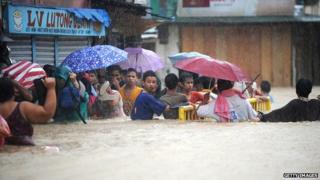 Getty Images
Flooding caused by torrential rain has forced people out of their homes and closed schools in the Philippine capital, Manila.
The flooding is so bad that the water is up to waist and neck levels in some areas.
There are fears that the floods could get worse because a nearby dam could overflow.
Casualties have been reported after the floods caused landslides.
Residents living in slums on low ground have taken shelter in community buildings.
In 2009 more than 400 people died after a typhoon caused widespread flooding across the capital.