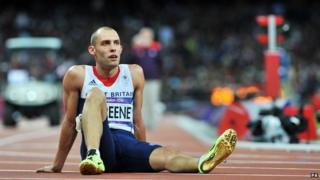 PA
Team GB's captain Dai Greene finished fourth in 400m hurdles final at London 2012 Olympic Games.
Felix Sanchez of the Dominican Republic won the race with America's Michael Tinsley taking home silver and Puerto Rico's Javier Culson grabbing bronze.
It's the second time Sanchez has won the title. He won gold in the same event at the Olympic Games in Athens in 2004. The athlete broke down in tears when he received his medal during the ceremony.
Greene had only just made it into the final after finishing fourth in his semi-final and recorded a time of 48.24 seconds on Monday.
After the race, Greene said "I felt a bit tired, a couple of days ago I had a shock and I am surprised I managed as fast I did"
"I gave it everything I had but was just too tired and narrowly missed out."