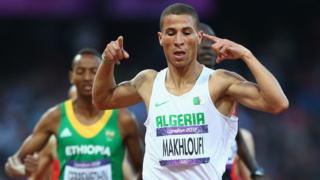 Getty Images
Algerian athlete Taoufik Makhloufi has been allowed back into the Olympic Games after being thrown out for not trying hard enough.
The runner had won one of the 1500m semi-finals and was forced to take part in the 800m after his country didn't withdraw him from the race in time.
Makhloufi was disqualified from the Games after he stopped running 200 metres into the event and wandered to the inside of the track.
With the help of a doctor, the Algerian later proved that he wasn't fit enough to compete in the race.
The 24-year-old will now take part in the 1500m final on Tuesday.