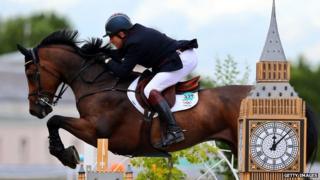 Getty Images
Great Britain have won their first Olympic showjumping gold medal in 60 years.
Nick Skelton, Ben Maher, Scott Brash and Peter Charles came through a tense final to beat Netherlands and Saudi Arabia to the top spot in the team showjumping.
It was Britain's first Olympic showjumping medal since 1984 and their first gold since the Helsinki 1952 Games.
It's the 17th gold medal Team GB have won in the London 2012 Olympic Games.