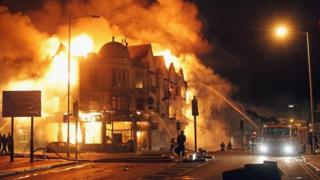 PA
It's a year since the English riots but there are still problems that need sorting out, according to the London Mayor.
The riots started when the police shot a man they were trying to arrest in Tottenham, north London, on 4 August 2011.
For four days, some of England's biggest cities were hit by violence, vandalism and looting.
Mayor Boris Johnson said: "There are still deep social problems that we've got to address by looking at what happens in the lives of young people, their role models, their ideals, what they want to achieve."
He also reckons that the Olympics are playing an important part.
He added: "I do think sport and the Olympics play a role. Sport builds self-esteem, character, confidence and the ability to understand how to lose - all those vital things."
Mr Johnson said that it's really important to get more young people into work so they are not tempted to riot, and that £70 million had been pumped into inner city areas of London to try to avoid a repeat of the violence.