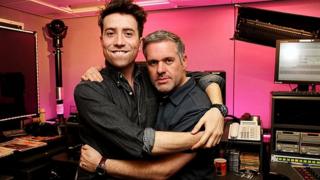 Nick Grimshaw will take over the Radio 1 breakfast show from Chris Moyles on Monday 24 September.
But Moyles won't be going quietly because he's going to have a goodbye party before he leaves.
Fans of Moyles will be able to hear his last breakfast show on Friday 14 September.
In July it was announced that Nick Grimshaw would be taking over from Chris Moyles, who has presented the show since 2004.
Nick Grimshaw already presents a show on Radio 1 on weekday evenings so he'll have to buy himself an alarm clock before his new job starts.
Moyles is the longest serving breakfast show host ever at the station - he's done it since 2004.
But Radio 1 is under pressure to get a younger audience and they're hoping Nick Grimshaw is the right person to do that.
Chris will be staying at the station until 2014 and is currently is discussions about hosting a new show.