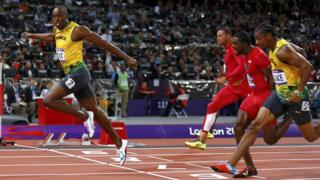 Reuters
Jamaica's Usain Bolt has won the 100 metre Olympic final in 9.63 seconds, a new Olympic record.
He was so fast if you blinked you may have missed him cross the line!
His training partner Yohan Blake won silver with a time of 9.75 seconds, while American Justin Gatlin claimed bronze in 9.79.
Bolt won the title four years ago in Beijing but it wasn't as easy this time around.
He had a slight injury in the run-up to the Games and he was a lot slower in his heats
But none of that mattered when the starting pistol went off and Bolt stormed to victory in the second fastest time ever (the fastest being his own world record)!
So- gold again in the 100m but he can't celebrate to much quite yet. He's already thinking about his next races - the 200m, and the 4x100m relay. Expect more golds for the Lightning Bolt!