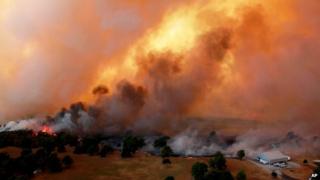 AP
Several wildfires raging in Oklahoma in America have forced hundreds of people to leave their homes.
Firefighters have battled to control the blazes in areas already affected by severe drought due to summer temperatures of 110 degrees.
The fires include a large one in Creek County, north east of Oklahoma, that has destroyed over 78 square miles of land.
Several roads had to be closed because of drifting smoke and roadside fires.
A highway patrol officer Mike Donegan was over 50 miles away from one of the fires when he saw thick smoke.
"We got ash falling even where I live. I thought it was raining at first. The smoke was thick," he said.
Authorities suspect at least one fire may have been deliberately lit.
No one has been seriously hurt.