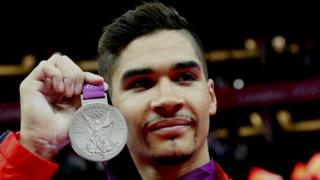 Getty Images
Louis Smith has won silver in the Olympic pommel horse final after a dramatic tie-break with gold medallist Krisztian Berki.
He missed out on Olympic gold by a tiny margin after his overall score tied with Hungary's Krisztian Berki.
Smith and Berki both scored 16.066. But gymnasts are scored in two ways - for the difficulty of their routine and for how well they perform it - the execution.
When scores are level the mark awarded for the execution is counted first to break the tie.
Berki had a difficulty score of 6.9 and an execution score of 9.166, Smith had a difficulty score of 7.0 but lower execution of 9.066.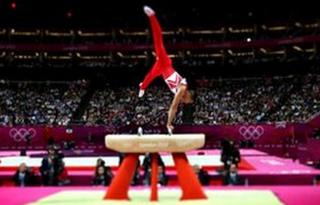 PA
The Olympic gold was awarded to Berki, already a double world champion, or a slightly better score for his execution.
GB team-mate Max Whitlock also took home a medal from the pommel horse - he walked away with bronze.
Louis won a bronze four years ago in Beijing 2008 and that made him the first Briton in a century to win an individual gymnastics medal.
Last week the British men took bronze in the team event and the medal count now stands at three, their best performance at an Olympic Games for a century.