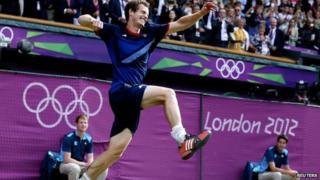 Reuters
Andy Murray has beaten world number one Roger Federer in the Olympic final at Wimbledon bringing Britain's gold medals to a whopping 16.
He won 6-2, 6-1, 6-4 in just one hour and 56 minutes.
And after losing to Federer in the Wimbledon final last month Murray's victory is all the sweeter.
Murray is the first British man to win the Olympic singles gold medal for over a hundred years - the last one was won by Josiah Ritchie 1908.
He also won a silver medal in the mixed doubles final with Laura Robson.
Belarus' Victoria Azarenka and Max Mirnyi beat them to take gold.